FREE! Epic Book Case Study
How I used my book to become a leading authority, get media attention and earn $106,127 in 30 days
The ONE Page Every Author-Entrepreneur Needs
Plus A Quick-Start Guide On How You Can Set Up This Critical Page In Just 60 Minutes
You need to sell your book.
Just being a published author is no longer enough.
These days, you must know how to market and promote your book.
And one major struggle we consistently see authors facing is learning how to run promotions, marketing campaigns, and ultimately drive more sales of their books.
Worst of all, there are hundreds of options, from podcasting to blogging; from pay per click advertising and affiliate promotions to JV partnerships and beyond.
There is Facebook, LinkedIn, Twitter, and 20 other options.
How do you choose what to focus on?
And, more importantly…
How do you convert your marketing efforts into dollars?
Well, at Epic Launch, after working with hundreds of authors and moving more than 1,000,000 books, we've learned there's one simple strategy you can follow that can help either make or break your book's success.
Today I want to share that strategy with you.
My hope is it helps you cut through the overwhelm and gives you clarity on the one thing you can focus on that will drive more book sales.
The ONE Page That Can Make Or Break Your Book Marketing Efforts
Surprisingly, it comes down to just one page.
It's a simple, easy-to-setup web page (you can do it in about 60 minutes) that you can focus all your marketing and promotional efforts towards.
We call it: The Book Launch Page.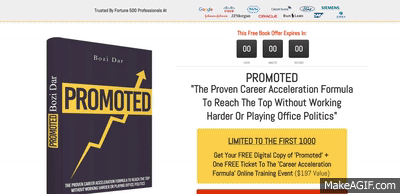 Here's Why It's Such A Crucial Step In Any Book Marketing Or Launch Campaign:
It gives you one single place to send traffic which is highly optimized…
You capture the names and emails of your readers and prospects…
You build a list of raving fans who you can communicate with directly…
You can send floods of traffic at anytime to any promotion you run…
Your page rises in Google search rankings (when done right)…
You take control of your marketing as you own the buyers' list…
In short: you build and control your audience.
We've tested every single strategy under the sun, and there is no better way to sell books online than via the email list.
Now, if you're reading this you probably fall into one of two buckets:
Your book is already launched and you want to sell more books consistently…
You're getting ready to launch your book and want to do it as effectively as possible…
Either way, the Book Launch Page is going to become your best friend and most powerful asset.
This one strategy alone has been used at Epic Launch to generate hundreds of thousands of dollars (if not millions) in sales, tens of thousands of email addresses and set our clients up for long-term sustained success.
And now, I want to…
Show You Step-By-Step How To Set Up Your Own Book Launch Page
Best of all, I'm going to show you…
How we got 80 out of every 100 visitors to happily give us their name and email address and how you can do the same… by simply downloading our proven page template.
STEP #1

Decide The Ultimate Goal Of Your Page
Is it to build a list of ready-to-buy prospects for when your book launches?
Or, is your book launched and you want to start selling right now?
In our experience, we find the most powerful is the former. Building an email list of excited people who're hungrily waiting for your book to launch.
The best way to do this is simple: make them an "irresistible" bribe by giving them a digital version of your book for free.
(If you prefer not to give away your book for free, give a checklist or guide that's directly tied to their desires.)
Why would you give a digital version for free?
It will only be free for a very-limited time, if they miss the date, we sell to them…
You can sell them a physical or audiobook version… not to mention courses and services for your business…
The free digital downloads will help you spike the chart, driving more paid sales…
This strategy can help you go "viral" within your niche and ultimately get your book to be sold via word of mouth, which is a status very few books ever make it to…
STEP #2

Start Building Your Book Launch Page

Start building your page.

You don't need any design experience, HTML knowledge, coding skills or web ability.

Instead, use a drag-and-drop page builder like ClickFunnels (you can get a free 2-week trial + our book launch template by clicking here).

Here's how easy it is to use: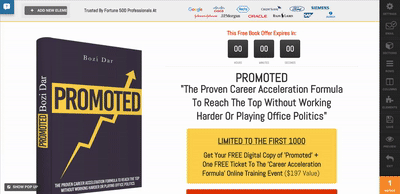 Now, as you build your page here's the key elements you must include if you want a page that converts highly (number of people who give you their email address).
As a side note: anything above 40% is generally considered outstanding. Using these simple conversion strategies I'm about to share, you should at least achieve that (each time we build these pages for clients they convert at 70-80%).
You can click here now to get a free copy of this book launch page.
Here's the 7 essential elements of your page:
Powerful, Attention Grabbing, Benefit Driven Headline
Professional Design And Eye-Catching Layout
Give Social Proof And Quality Expertise
Create Scarcity And Urgency
Testimonials to Qualify Claims
Clear Call to Action / Instructions
About The Author (Builds Trust)
You can see how each of these is used on the image below:
STEP #3

Start Sending Traffic To Your Page

Whether you chose to use PPC, affiliates, social media, blogging or any other marketing medium, start sending all your traffic to this page.

Tell them about the irresistible offer they can get by visiting.

Once people have "opted-in" (given you their email address), you can start communicating with them directly. Whether you want to starting selling straight away or build the relationship by offering value, it's your choice.

Just remember, if you follow the 3 steps in this article you'll be lightyears ahead of other authors.

You'll have ONE highly optimized, high-converting platform you can send traffic to.

Instead of trying to run a blog, social media accounts, podcast and who knows what else, you can cut through the overwhelm and focus on what really matters…

Building your email list and creating a relationship with them.

If you do this, you'll never struggle for sales again.
BONUS STEP

Get Started Now With Our FREE Page Template

I had to convince my team to do this.

But, we've decided to giveaway our proven, book launch page template to you for free.

Just click the button below (or here) for instant access.

This is the same template you've seen in this article.

With this you'll be up and running in just a few minutes. After that, all you have to do is put in your details, a short book description and some images. Then, just watch your page convert like crazy as the email subscribers pour in.
Final Thoughts On The ONE Page
There's a reason we build these pages for every client we work with.
Simple truth: they work time and time again.
We like to control the marketing of the books we work with, and the book launch page plays a critical role in that.
Instead of juggling multiple social platforms, relationships, promotional partners, disconnected email services and everything in between, you can pull everybody towards one page and one email list.
From there, it's quick and easy to communicate, build a relationship, give value… and of course… sell your book.
So, if you're looking for an 80/20 approach to marketing your book, we believe this is it.
However, if you're looking for an behind-the-scenes of a $100k+ book launch, click here to download you free case study.
In this case study, I reveal:
How I turned my "hobby" into $106,127 in 30 days by launching a #1 international bestseller.
Five common mistakes that are preventing you from achieving a successful book launch, scaling your business to 6 figures or beyond and becoming the lead authority in your space.
The exact step-by-step process that has generated 16,000 email leads in 10 days, produced multiple #1 bestsellers and created 7-figure entrepreneurs.
Your friend,

Austin G. Netzley
Founder, Epic Launch